Birthday Flowers
St. Petersburg FL Florist Absolutely Beautiful Flowers delivery daily Happy Birthday wishes with the gift of flowers. Whether you're looking for a unique birthday gift or party decor, floral arrangements are always sure to make a statement from Tampa Bay premier Florist.
Out of town? Don't let that stop you from wishing someone "Happy Birthday". Surprise them with a vase of our best roses, tulips, or daisies, just to name a few, from ABSOLUTELY BEAUTIFUL FLOWERS. There really is no better way to say, "I love you" or "Just thinking about you". Browse our selection of sample birthday arrangements. Order online or give ABSOLUTELY BEAUTIFUL FLOWERS in ST. PETERSBURG a call today.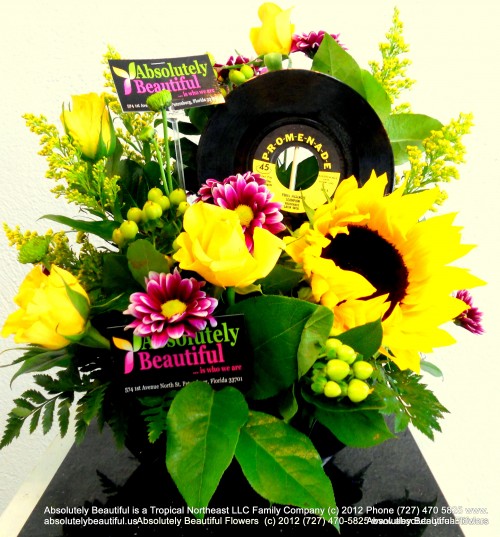 St. Petersburg Florist Absolutely Beautiful Flowers (727) 470-5825 is the Premier Tampa Bay Florist in downtown St Petersburg Florida. Home of Same Day Free Delivery of Fresh Flowers**. We make every Floral experience Absolutely Beautiful. We customize every arrangement at no charge. Absolutely Beautiful Flowers has over 20+ years experience in Floral Arts and Event Planning Service. We are OPEN 24/7 to receive your Flower Orders.
**We deliver Same Day for Birthday Flowers free to Downtown St. Petersburg, Zip Codes: (33701,33702,33703,33704) and Hospitals (St. Anthony's Hospital, Bayfront Health, All Children's, Baby Place and Downtown Hotel including: Hilton, Vinoy, Marriott, Hampton Inn & More (Call 727-470-5825 with any questions).
Let us make your next Birthday Event Absolutely Beautiful!
We Love St. Pete and Tampa Bay
Call us at (727) 470 5825 or Email us at: ABTEAM@Absolutleybeautiful.us
We are open 24/7 for Floral Orders online!
Our Location in Google Maps:
http://g.co/maps/ewtdc
Our Flower Shop is located at:
574 1st AVE N
ST. PETERSBURG FL 33701
(727) 470-5825